Like many collectors, I'm a sucker for retro-designed cards, especially the Topps Heritage series. But as aesthetically pleasing as these cards are, they've still got nothing on the real thing. If you don't know what I mean, just sit tight for a little show and tell.
Last Friday, I was in Laurel, MD for my good friend (and former roommate) Mikey's wedding rehearsal. We had to meet at the church at 7:00 PM, and I didn't want to chance being late, so I came straight from work. As a result, I was 45 minutes early. As luck would have it, the church was a few blocks away from
Sports Card Heroes
, a hobby shop that I frequented when I used to take the train from Laurel to Washington D.C. for work. With the recent news of Topps' exclusive licensing deal with MLB fresh in my mind, I was feeling a little current-day card fatigue, so I made a beeline for the vintage baseball card display case. I noticed a small box of 1952 and 1953 Topps, so I asked the owner to let me have a look. Most of the cards were in well-used condition, and were reasonably affordable ($75 and below, if I recall correctly). The owner informed me that they were all 30% off of the marked price, which was music to my ears. I did a little crack math in my head, and nabbed the following four cards for about $12. Not too shabby!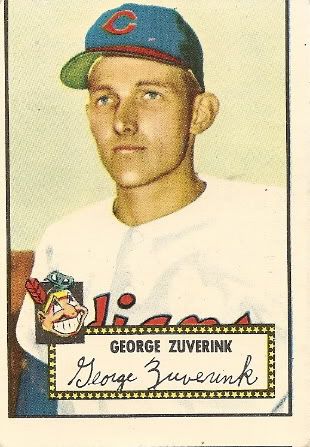 First up is
George Zuverink
, 1952 Topps #199. I only had one card from this famed set (Phillies outfielder and fellow Washington College product
Bill "Swish" Nicholson
), and this one is a great addition. I specifically chose it because George was a reliable reliever for the Orioles later in his career, posting a 3.07 ERA with the team and collecting 23 wins and 36 saves from 1955-1959. As the icing on top of the cake, this is his rookie card!
Here we have another future Oriole in
Alfonso "Chico" Carrasquel
, 1952 Topps #251. He was one of the first of a long line of All-Star shortstops from Venezuela, playing in four Midsummer Classics in total. He played his only season in Baltimore in 1959, batting .223 with 28 RBI in 114 games before calling it a career. Look at that odd signature - his letters seem to slant in the opposite direction!
I've always appreciated the artsy look of the portraits in the 1953 Topps set (which the 2002 Topps Heritage set was patterned after, of course), but I never did get around to adding some of them to my collection until now. They were worth the wait. First is #55,
Maurice "Mickey" McDermott
. He would peak in 1953, going 18-10 with a 3.01 ERA for Boston. Shane Diaz, who is collecting the 1953 set, has a good summary of McDermott's colorful career
on his blog
.
Finally, we come to the only man in this quartet that I didn't recognize, #185,
Jim Pendleton
. This is another rookie card, but Jim wasn't your average rookie. He was a World War II veteran who was signed by the Dodgers in 1949, but found himself stuck behind
Pee Wee Reese
in the shortstop pecking order. He would hit .299 with the Braves in 1953, only to lose his job the following year to a kid named
Hank Aaron
. He collected only 369 at-bats between 1954 and 1959, but re-emerged in 1962 as the elder statesman of the brand-new Houston Colt .45s. The 38-year-old hit .246 with a career-high 8 home runs and 46 RBI for the club that would become the Astros before riding off into the sunset.
I know you can get some good deals on vintage cards on eBay, but there's still something satisfying and tangible about buying them from a hobby shop now and again.