I had the opportunity to meet then-Orioles manager Sam Perlozzo last year, when I signed up for one of those Spring Training weekend travel packages. My father and I had the good fortune to spend a relaxing St. Patrick's Day weekend in Fort Lauderdale at the same time that it was snowing (!) in Baltimore. The first of two games that we attended was a rain-shortened disaster against the Twins. The Birds lost 16-2, as Jamie Walker was the only pitcher not to get battered. To make matters even worse, our old friend Sidney Ponson earned the win for Minnesota. For what it was worth, we had first-row seats directly behind home plate, which allowed me to take this picture of Perlozzo when he sidled up to the stands and talked to somebody in our section that he knew.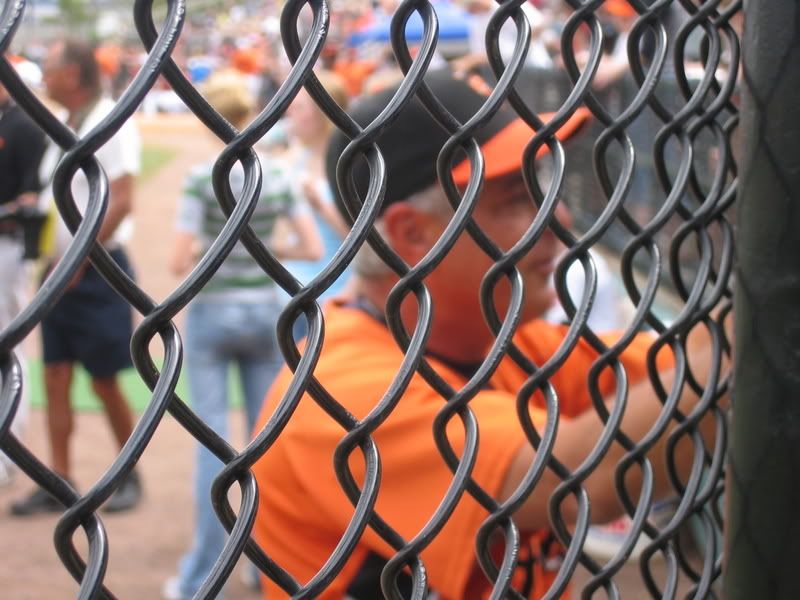 After the game, the few dozen diehards that were in town via the travel package were ushered to an enclosed area for a luncheon and an autograph session with "select" players, as well as a Q & A with Sam Perlozzo. The event began with an announcement by emcee Jim Hunter, indicating that Sam had been called away for a meeting with the front office and would be along later. There were sympathetic murmurs and groans, and Hunter was quick to tell us that these meetings were common in Spring Training and that the manager's job was not in jeopardy.
As we lined up for the buffet table, the players shuffled through the door in various states of dress. As you might imagine, the guys who were tabbed for this dubious honor weren't the Brian Robertses and Erik Bedards of the world. If I recall correctly, the lineup included Freddie Bynum, Jeff Fiorentino, Terry Tiffee, Brian Burres, Kurt Birkins, Brandon Fahey, and Hayden Penn. A few of the fans (my father included) made snide remarks about the team's performance that day, which I found pretty rude. These were the young prospects and fringe players of the team, guys who were probably already uncomfortable (Fahey in particular looked like he'd rather be anywhere else), and they'd been pulled away from the clubhouse in their downtime so that people could ridicule them for losing a game that didn't count - a game whose outcome wasn't even determined by most of them.
I stood in a short line to have my commemorative Spring Training Orioles hat signed by the rag-tag collection of young O's. They were all seated behind a couple long tables, and passed each item down the row like an assembly line. There wasn't any real opportunity for conversation, but Freddie Bynum and Brian Burres struck me as particularly polite for whatever reason. I think Freddie even thanked me after he signed my hat.
Sam Perlozzo arrived shortly thereafter. I recall him as having a good and sarcastic sense of humor, which I suppose is an important defense mechanism when you've just lost a game 16-2. He took several questions from the fans in attendance, but the one thing he talked about that really struck me was the series of unique disadvantages the Orioles faced because of their Spring facility in Fort Lauderdale. He explained that they were the southernmost team in the Grapefruit League, which in turn meant longer bus rides to away games than more centrally-located teams had to endure. Additionally, the O's are the only MLB team that does not have their minor league facility on-site at the major league camp. This causes roster snags all of the time, as players can't be shuttled back and forth to get more opportunities to play in live games. If the big league club is short-handed due to injuries and illness, they have to bring up players from the minor league camp in Sarasota and hang on to them for several days to make it worthwhile. Moreover, less minor leaguers get the benefit of exposure to the big league players, not to mention less attention and instruction from the major league coaching staff. Examples like this show the sort of inefficiency and mismanagement that has plagued this team in the past fifteen years.
After the Q & A, Sam also made himself available for autographs. For my part, that was when I took advantage of my audience with Perlozzo to ask him a brief question. I wish I could have thought of something more insightful, but in the end I simply asked him who would be managing the other half of the team on an upcoming split-squad day. He told me that it would be bench coach (and former Brewers and Cubs skipper) Tom Trebelhorn, which I had already suspected. Then he gave me a wry smile and said that he figured the coach could handle it.
What a wiseguy.